Ain't no mountain high enough: new Ducks look out over Pisgah
On a clear day, you can see your future.
On Monday the six new Ducks, Malaesala Aumavae-Laulu, Kayvon Thibodeaux, Ge'mon Eaford, Dru Mathis, Cale Millen and Josh Delgado, hiked Mount Pisgah together, posing on a chunk of basalt like the Iron Throne.
It was from the biblical Mount Pisgah that Moses viewed the Promised Land. It's no surprise the first white settlers to the region chose this ambitious name for their eponymous hillock, 1533 feet high and southwest of Eugene and Springfield. From the summit the verdant Willamette Valley and a silver sliver of the winding coast fork of the Willamette River stretch out like possibility and earthly perfection. Walkers share the wide path with horses and dogs. Gnarled, ghostly-looking oaks guard the trail while beds of poison oak await anyone overly adventurous or stupid. At the base, just over 500 feet, parking is $4 and break-ins are frequent.
About ten miles from town and a four-mile trek, Pisgah has become a bonding exercise and a rite of passage for new Ducks. It's less raucous and well-traveled than Skinner's Butte or Spencer's Butte to the West. At the summit a bronze marker features a topographical map of the surroundings, but it's the view itself that dominates, panoramic and majestic. The snow-capped Three Sisters and Diamond Peak lie to the east. There's something about natural beauty that inspires us to awe and shrinks time. You can imagine a place in its primitive beginnings. You can think of being the first to stand there or strike a shovel to the earth. You think of your connection to the land and your hopes.
Or you just have a good time hanging out with new friends. I haven't been 18 for a long time.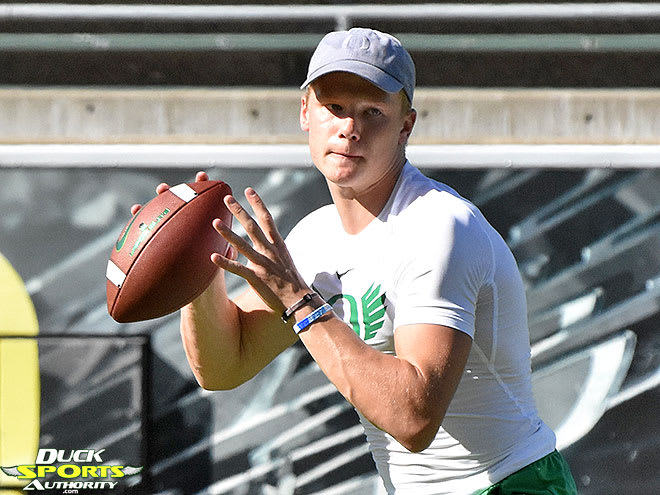 Malaesala-Aumavae-Laulu
JCGridiron.com rated Aumavae-Laulu the number one junior college offensive lineman in the country, number four overall in their Top 100.
Nimble and athletic at 6-6, 389, the four-star Juco transfer earned offers from Alabama, Baylor, Florida, Florida State, Kansas State, Nebraska, Oklahoma, TCU, Tennessee, Texas A&M, USC. Trojan fans thought he was a lock to SC but he visited Oregon in June and committed on the same weekend, staying solid to the Ducks throughout.
Recruited by the tag team of Alex Mirabal and Joe Salavea'a, Sala Da Beast's highlight film is stunning for its power and strength. He destroys people at the line of scrimmage. Like the #1 insect repellent, he blocks them dead. With a frame that makes buildings look smaller he's surprising for his peaceful nature off the field, a strong protector who walls off the pocket on pass plays, drives people to the ground on the run.
From a tight-knit Polynesian family, Sala grew up in Alaska but played his high school ball in Henderson, Nevada. He was 6-6, 365 as a high school junior, 2nd team all-state as a senior at Liberty High, crosstown from Green Valley where Tyrell Crosby went to school. In 2015 the Patriots dumped GVHS 51-17, rolling up 381 yards behind their massive left guard. Senior year, the team won their seventh straight Sunrise Region title. Junior quarterback Kenyon Oblad (6-3, 170) had the protection to throw for 3,784 yards and 38 TDs They lost to Bishop Gorman in the state final.
The powerful left guard graduated from high school in 2017 and has three years to play two. He didn't have a lot of interest as a prep, electing to continue his football journey at Navarro Junior College in Corsica, Texas, applying himself in both the weight room and the classroom, graduating early to join the Ducks, enrolled and in class for winter term. Like their other JC acquistion he qualified for early entry, the first hurdle in the major college transition. The two will have the full nine months to acclimate and show what they can do.
In Sala's case, that could mean a place in the starting lineup. If he can adjust to blocking players bigger and far more gifted than he faced in Juco, he could be the driving force that complete's Mario Cristobal's design for the Oregon front. The right guard spot was a deep nagging bruise last year. With injuries, it didn't quite click or gel, requiring all kinds of tape jobs, braces, bandages, shuffling. Sala could provide additional solidity and punch, completing a cohesive line that can dominate and move opponents off the ball. His first strike is stunning. The trick is to know the offense, stay healthy and be consistent. The practice battles with Jordon Scott should be epic.
Kayvon Thibodeaux
Recruiting coups don't get any bigger than Thibodeaux. Rivals places the 6-5, 230-pound Los Angeles native as the 6th-best recruit in the country and number one at weakside defensive end/rush linebacker, a cat-quick advanced athlete who was ticketed for Alabama or the Trojans before Keith Heyward, Joe Salavea'a, Mario Cristobal and a fully-amped Autzen Stadium worked their magic. He visited for the upset over Washington and announced on live national television, on ESPN at halftime of the New Mexico Bowl, eliciting a tremorous, thunderous reaction on Social Media. Even Oregon legend and former NFL All-Pro Ahmad Rashad weighed in.
Oregon has only recruited a handful of five-star players in their history and of these, Thibodeaux is the highest-rated. He's an instant impact player with intensity and the ability to blow by people on the speed rush, a gift to which Salavea'a will add polish and advanced technique. The go-to move is impressive but rips, swims and spins will only add effectiveness. Thibodeaux prides himself on his purposefulness. "I'm a technician," he says.
Mature and charismatic, Thibodeaux has already made himself a fixture on the UO campus, easy to spot in the Pit Crew at basketball games, enthusiastically tackling his classes and adjusting to campus life.
His big challenge as a first-year player will be to channel his exceptional intensity. PAC-12 refs have a short whistle cord for Gator Chomps or anything that looks like opponent-baiting. Facing better competition than at small-private-school Oaks Christian, over the long grind of the season there will be series and quarters of frustration. He'll have to maintain his composure and ample confidence, look for openings to make a big play.
In the end, he's a can't-miss first-year starter and a potential Freshman All-American, maybe the most talented defensive player the Ducks have ever had. Health and persistence determine his ceiling, which is at least 1500 feet high.
Josh Delgado
Filmmaker Stephen Spielberg tells an apocryphal story about sneaking on to the Universal Studio lot with a briefcase at 16 and commandeering an empty office, giving the receptionist the extension to take calls. Though he did intern there the origin story is embellished. Sometimes a good story is better than truth.
The story of the wide receiver position at Oregon needs some embellishing after a season with 70 drops, especially after 1184-yard receiver Dillon Mitchell declared for the NFL.
By enrolling early the 5-11, 180-pound pass snatcher has declared his absolute determination to compete for one of those jobs and make immediate name for himself. He's brought his briefcase, as it were. He even packed a sack lunch.
Originally from California, Delgado played his junior year at St. John Bosco and senior year at IMG Academy in Bradenton, Florida. Already he's a master at adjusting to new situations. Delgado is ranked 201 in the Rivals 250. He's played a national schedule at the elite prep school. An Opening Finalist and All-American, he's smooth and fast with easy, natural hands catching the football.
Recruited by Marcus Arroyo and Michael Johnson, Delgado committed last June, the day after Sala Da Beast, choosing Oregon over offers from Arizona State, Arkansas, USC, Washington and others. He verballed to Washington last January before switching to the Ducks. The family atmosphere and genuineness of the staff won him over.
Ge'mon Eaford
An outside linebacker from Deerfield Beach High School in Deerfield Beach, Florida, Eaford had offers from all of the power brokers of college football. The Ducks won out over Alabama, LSU, Florida, Mississippi, Ohio State and Michigan. They nabbed him over Willie Taggart and Florida State. Clemson and Auburn offered. Georgia and Tennessee. Oklahoma, Rutgers, Baylor and Syracuse. Penn State, Nebraska and Wisconsin. There wasn't a five-million-dollar coach in the country that didn't covet Ge'mon Eaford. Scott Frost had him in for the GBR spring game.
Now returned to Louisville, Cort Dennison was his principal recruiter.
What a lovely parting gift. Eaford is sleek and fluid, the kind of sideline-to-sideline linebacker that can give the Ducks a fighting chance against the crossing patterns and underneath routes that have plagued them in road games, a high-motor tackler with relentless pursuit and a fast-twitch body.
The UnderArmour All-American attended Saturday Night Live II and committed on August 3rd, eventually bringing Deerfield teammate defensive end Brandon Dorius with him, a two-for-one deal that makes WalMart look like chump change and salty, watered-down soup.
Quick and tenacious, he's embracing his new home while gearing up for a run at the starting lineup. Raising the athleticism across the roster just makes practice time more productive. The daily battles will make game day a reward.
How about Gemon; finding out about the Pacific Northwest. Can't wait to see him terrorizing offenses this fall. Plenty of adventure. Great view. Go Ducks. https://t.co/HSNAt5PRmX

— 🏈 Gordon 🏈 (@badgordie1) January 13, 2019
Dru Mathis
At times last year the Oregon defensive front seven was overrun at the point of attack. Utah reserve running back Armand Shyne pounded them for 174 yards rushing on 26 carries, including a back-breaking 42-yard run when they were just getting back in the ball game.
The Ducks lightish inside linebackers couldn't get off blocks. Other times' they were bowled over, shed or dragged in embarrassing fashion, exposed as badly needing some SEC size in the middle.
JC transfer Mathis has the requisite brawn at 6-3, 240. He's a 3-star with offers from Nebraska and Illinois, recruited by Dennison and Johnson. He committed on signing day, rounding out the class when a couple of more touted options fell through.
Still, he's the #3-rated junior college inside linebacker in the country, in a position group that had more depth than normal. Sell him short. It just makes him hungrier and more determined.
The most telling thing about him is the persistence and drive to escape Last Chance U. with the opportunity to play major college football and enroll early. Originally signed with San Diego State out of high school, Mathis kept his football dream alive and matured physically. He applied himself in the classroom.
On film he flies around and makes plays. The leap to the big time is dark and full of terrors. Offensive tackles are the size of a wall. Running backs are smoke through a keyhole, as if conjured by a Red Priestess for treacherous deeds. Receivers are gone in 4.4 seconds. Some can make it and some don't.