Flock Talk: Exclusive Mike Bellotti
Oregon fans were treated to a rise to glory that began at the feet of Mike Bellotti. Though he has been retired for nearly 10 years, Bellotti is working as one of the head coaches at the Polynesian Bowl this week. Today we caught up with the hall-of-fame coach for his thoughts on the state of Oregon football, his past, present and future, as well as his thoughts on some of Oregon's signees and the NCAA as a whole.
When the Ducks found themselves looking for their third head coach in three seasons, they did not have to look far promoting from within when Mario Cristobal ascended to the head spot. How has Cristobal worked to integrate Oregon's past with it's future?

"I talk to Mario frequently. We talked about once a week during the season. He has been very good about involving me in some of the functions. We have a good dialogue and I think he has done and excellent job," Bellotti told Duck Sports Authority.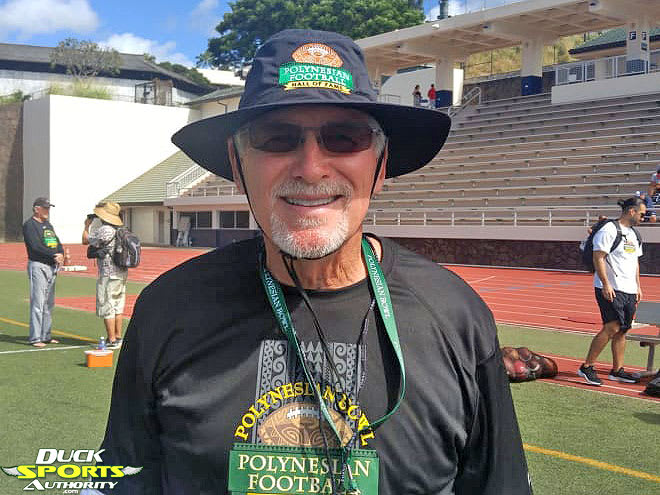 Rick Neuheisel made the observation in multiple formats that the Pac-12 as a whole needs to get bigger and stronger; that has been an area of focus Cristobal has made is and that is something that stands out.
"Obviously Mario is of that ilk; he is coming from the Alabama program where they want to be bigger, stronger and faster than everyone else," said Bellotti. "They want to run the ball, play great defense, win on special teams and eliminate mistakes and I think Mario is attempting to build a bigger offensive line of scrimmage; a more power run game that will take some pressure off of his quarterbacks and receivers. I think he really understands where the Pac-12 needs to go and he's working on it by recruiting very well."
As we have discussed with several recruits this week, the biggest news for Oregon in the 2019 season was the return of Justin Herbert. Coach Bellotti had some insightful comment as to what Herbert needs to work on as he heads into his final season of football for the Oregon program.
"Justin's got to continue to understand surveillance of the field and not zero in on one receiver. I know that was tough on him last year because he really only had one viable target, but at the end of the season, he was forcing the ball into a single target, he wasn't really reading the coverage like he was earlier in the season.
"Part of that was the lack of a running game – especially after [Penei] Sewell went down – when the running game was good, everything is easier on the quarterback. When it began to struggle it made a lot more pressure on the quarterback; the defenses get in situations where they can disguise coverages or blitz. Justin is an excellent athlete, he's strong, intelligent young man, but I don't think he performed up to his capabilities in the second half of the season.
With all of the retired coaches returning to the field, the topic was broached by Bellotti in our wide-ranging interview.
"You know what, I have had many opportunities to get back into coaching and a couple were really close to me returning. But basically, you know, I am now closer to 70 than anything else [Bellotti turned 68 last month] and I really enjoy football; I love being around the players and coaches, but it's also a huge time commitment and I've got grand-children now that I want to see and spend time with and I have got children of my own that live in different states now, so it's harder to get together."
"I did not really enjoy the travel part with ESPN and I am not sure I would enjoy the travel part associated with recruiting now. Odds are, at this point, probably not going to coach again."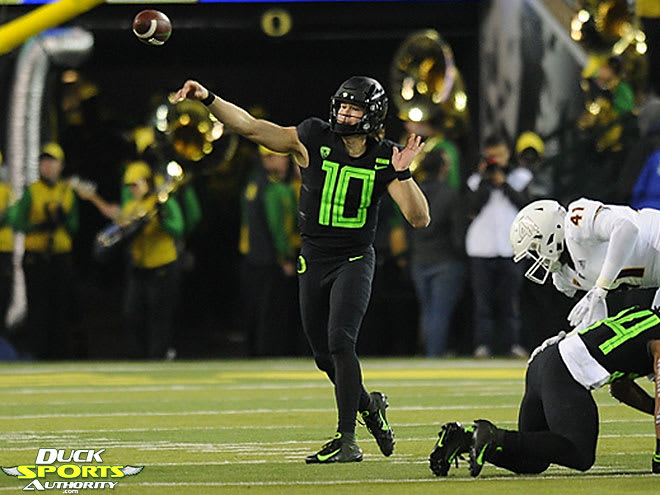 Having spent his entire career as a college football coach, Bellotti has been around for a long time and has seen tremendous change at the NCAA level to benefit student-athletes.

"I think the NCAA is actually doing a really good job. They're providing much more material things and support in terms of getting home, getting back and forth from school, providing a lot of facilities that really help take care of the athlete both on and off the field. I think as long as they continue to do that; continue to provide the education, provide summer school, provide counseling just on all the situations that can and do occur, they are doing well.
"I don't think they're ever going to pay student-athletes like professional. There will be the whole other questions about unions and all those type of things. But I think for most athletes, it's still a great opportunity to get a paid education and prepare themselves for life after college."
One coach who was non-de script for much of the week was Sean Bellotti – Mike's youngest son.

"It's been a ton of fun to have Sean here this week," Bellotti began. "It's not the first time; we have actually coached together at the Manning Passing Academy before and had a great time. He's done that a couple of times. I am excited because I got a chance to watch him play every game of his college career [Sean played wide receiver and did some kicking at Cal Lutheran in Thousand Oaks, CA from 2012-15].
"I think he is an outstanding young guy and if he wanted to go into coaching I would push him in that direction," Bellotti laughed. "But I think he's smart enough to say 'no I don't think I want to be a coach."
With well over 15 years at Oregon – including 14 as the head coach – there are more memories than most coaches could ever count, but there were some which really stood out to the winningest coach in program history.
"There are really too many good memories, I can tell you though, that my last Civil War, where we put up 65 points on the Beavers; my last game was the bowl game where we upset a really good Oklahoma State team. They had a great team and our quarterback played really well; our kids played really well. I think those two games stand out in my mind, but I have a ton of memories of great players, and great coaches that worked for me that I was really just happy to see go on and do great elsewhere."
The funny thing about so many great players, coaches and memories, is that many coaches find it extremely difficult to name the best player they ever coached. Coach Bellotti had no such qualms.

"I have an easy answer," Bellotti told Duck Sports Authority. "Haloti Ngata. Haloti could have played eight or nine positions on the football field. He could have played defensive line, offensive line, linebacker, tight end, fullback and he would have been great at all of them," Bellotti concluded.
By no coincidence, Ngata is the honorary captain for Jim Zorn's Team Makai on Saturday. The interview with Coach Bellotti was wide-ranging and he was very straight-forward. He has done a tremendous job mentoring this week.

Duck Sports Authority would like to thank Coach Bellotti for taking the time to talk to us at the Polynesian Bowl in Honolulu. Duck Sports Authority members can read the balance of the interview, including Bellotti's evaluation of the 2019 Oregon football team, and the 2019 signees at the Polynesian Bowl.