Polynesian Bowl: Teams set
With the check in of players, coaches and parents, the 2019 Polynesian Bowl started the week with a bang, so to speak.
The players began arriving as early as 1o:00 am with check in at noon today and extending until 6:00 when the players and their families gathered for dinner followed by the team selection and draft party.
While the state of Oregon is not represented, that does not stop us from covering an event where six of the selected players have signed with Oregon. Coincidentally, they were split evenly between the two teams.
TEAM MAUKA (Mountain) has several Oregon connections – even a couple outside the players who have already signed.
Sean Dollars – the Mater Dei running back will wear number 5 in the game Saturday. He checked in early and looks both excited to be competing and physically ready to make an impact. His Polynesian Bowl team will be wearing a familiar color of red.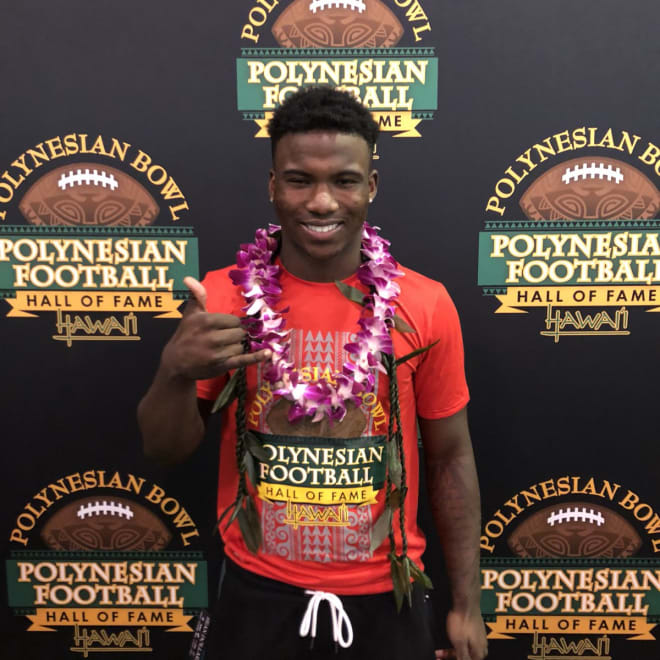 Sua'ava Poti will also be playing for Mauka this week. He looked solid and his frame looks easily capable of adding weight if the Ducks want to move him inside. We will be watching closely to see how Poti competes against some elite linemen at this All-American week.
Mykael Wright is the third Duck on this team; we already saw him dominate at his previous All-American Game, so seeing him against elite competition again will be entertaining for Duck fans.
The Oregon program is also represented in the coaching ranks as all-time Oregon wins leader Mike Bellotti will be coaching this team. He made the trip out from California today and is looking forward to getting to work. In fact, after getting the teams selected, Bellotti was eager to get to team meetings following the media exposure to get the team rolling.
Finally, there was a legacy player selected for Team Mauka as Orin Patu – son of legendary defensive lineman Saul – was selected for Mauka as well. He was excited to meet the coach for whom his father played shortly after my brief conversation with him. I know he did not get an offer, but he was every bit of 6-4 and 200 pounds; and he looked like he could easily add a significant amount of weight. He will be an interesting player to watch both during the course of the week and his career at Cal.
TEAM MAKAI (Ocean)
This team also has three Oregon signees on its roster.
Mase Funa is in town and looks like he is going to have a good time with the group with which he will be playing. As the top rated linebacker signed by Oregon – a position of need for the Ducks – we will be paying some attention to his performance throughout the week.
Treven Ma'ae will be on the blue team as well and looks ready to play. He does not seem overwhelmed at all by the company he is keeping; but we will wait to see how he performs in pads tis week against some truly elite offensive linemen.
Jonah Tauanu'u is the sixth and final Oregon signee playing this week. There are going to be some very good matchups against him in both practices and games this week. After already dominating in his prior All-American game, we expect him to continue his impressive showing.