Allen holds head high following injury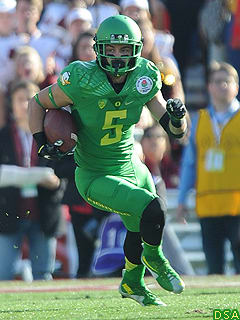 After injuring his right knee on the first play of the Rose Bowl,
Devon Allen
became the latest in a long list of Ducks players that will be forced to watch the inaugural College Football Playoff Championship Game from the sideline.
The team is far past the point of asking, 'why us'? Win or lose on Monday, the 2014 Ducks will go down in history as one of the most injury-riddled teams to play for a national championship in college football history, and it's testament to how they've responded to a series of seemingly devastating blows.
The receivers group under
Matt Lubick
were not spared as they persevered through injuries and inexperience of their own, due in large part to senior receiver
Keanon Lowe
.
"Keanon did a great job this year rounding us together, teaching all the new guys how to practice and how to prepare," Allen said.
When Allen went down early in that Rose Bowl game, Lowe offered some words of encouragement. But he knew Allen would be fine.
"He's Devon Allen. He's a freak athlete, he's a future Olympian. So he didn't have to hear anything from me." Lowe said. "Mentally he's definitely handling this situation better than anyone and he'll be back strong."
Every competitor feels a certain level of disappointment when a promising season is cut short, especially on a contending team. But teammates say Allen refuses to pout about his situation.
"He's just like everyone else in our receiving corps," Lowe said. "After he went out in the Rose Bowl, he just wanted to win."
It's a mantra that echoes from every player's voice. Between Allen, Lowe, Darren Carrington, Dwayne Stanford, Byron Marshall, or Charles Nelson, the Ducks receivers have found success in the most unselfish of ways. So while losing Allen, the team's leader in touchdown receptions and arguably the fastest player may seem like a big loss on paper, the Ducks offense shouldn't be any less threatening without him.
Reduced to a spectator in street clothes on the sideline, Allen will be in somewhat of an unfamiliar position come game time against the Ohio State Buckeyes for the championship. But as he and the Ducks have done all season, Allen's only focus will be on the team.
"I'll be out there cheering for my team. I love this team, I love watching football and love seeing these guys be successful," Allen said. "I think they'll have someone to look at [on the sideline] and be like, 'alright, we're gonna do this,' but I think these guys are really motivated and ready so they don't need anymore motivating."