BREAKING: Four-star OL Dave Iuli chooses Oregon over USC and Miami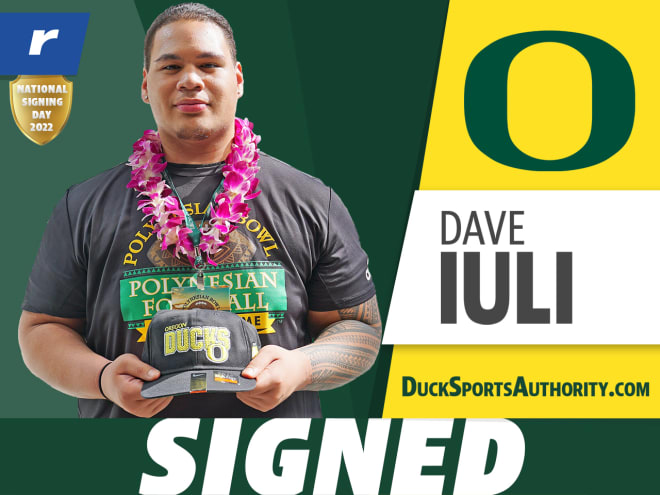 The final bit of suspense for Oregon fans on National Signing Day was for the mid-afternoon announcement from four-star Rivals250 offensive lineman Dave Iuli.
And once again Wednesday, a key recruiting battle went the Ducks way as Iuli chose Oregon over Miami and USC.
Much like outside linebacker Emar'rion Winston earlier in the day, Iuli had been previously committed to the Ducks, from mid July to late December, before backing off that pledge.
But Oregon's new coaching staff continued to make him a top priority and was able to fend off former head coach Mario Cristobal and OL coach Alex Mirabal at Miami, who sought to leverage their previous connection with Iuli to bring him across the country.
"To be honest, when I went back to Eugene, man, I just felt that love," Iuli told Rivals national recruiting director Adam Gorney. "I know I get love everywhere, I'm going to get love at Miami and stuff like that and all the visits I took, USC too, but at the end of the day my love felt like it was at Oregon. Not only that, the new coaching staff, I love them and everything and I trust them. I just feel happy down there and I feel that's where my heart is."
Ranked the No. 10 offensive guard and No. 186 overall national prospect, out of Puyallup, Wash., Iuli gives Oregon 15 signees in this 2022 class. He joins three-stars Michael Wooten and Kawika Rogers as the only offensive linemen in the Ducks' class, though five-star OT Josh Conerly remains a top target with his decision not expected until March.
In addition to Winston's announcement earlier Wednesday, choosing Oregon over Washington, the Ducks also won a major recruiting battle for four-star RB Jordan Bryant-James, as the Murfreesboro, Tenn., standout flipped from his Georgia commitment.
As for Iuli, he emphasized the vibe he got from new Oregon head coach Dan Lanning in helping to reel him back into this Ducks class.
"I think a lot of things that stood out with the coaches down there at Oregon was energy, man. The energy," Iuli said. "A lot of people don't know, but Coach Lanning is that guy. When they say 'Dan is the Man' ...Dan is the man. You guys see it too, you guys see all these guys at Oregon, they're all coming back, they're committing because ... we were out there to find the best school for us, and we talked about that in a group chat before we even decommitted with a lot of us. So we just wanted to find the best school for us, we came back and ... some of us are coming back home."
New offensive line coach Adrian Klemm was also a big factor, as was new analyst Viane Talamaivao, who had been key to Iuli's recruitment at USC before leaving for the Ducks last month.
"I'm fired up. I'm more than fired up, I'm motivated. Because sooner or later there's a reason why I'm hitting [the gym] right here because I know Coach Lanning and Coach Klemm don't play about their players. If you're not a guy that can make plays, if you're not a playmaker, you're not on the field and that's what I love about them is they kept it 100 and I love stuff like that," he said.