Ducks have the firepower-and national attention-to excel in 2019
The nation has noticed: Oregon in preseason polls and forecasts
| Writer | Publication | link | Rank | Key comment |
| --- | --- | --- | --- | --- |
| Mark Schlabach | ESPN | | 12th | With Justin Herbert returning, Oregon could be a playoff sleeper. |
| Dennis Dobbs | CBS | | 7th | The return of quarterback Justin Herbert makes the Ducks the Pac-12 favorite and an outlier playoff contender. |
| Bill Bender | Sporting News | | 13th | The right pieces are in place. Now it's time for the Ducks to win big conference games again. |
| Stewart Mandel | The Athletic | | 9th | Justin Herbert's return makes Oregon the likely Pac-12 favorite. |
| Wayne Staats | NCAA.com | | 11th | Five-star defensive lineman Kayvon Thibodeaux could be a monster right away for the Pac-12 favorites. |
| R Parker | Building the Dam | | 11th | The Ducks will be the favorite in the Pac-12 to start the year. |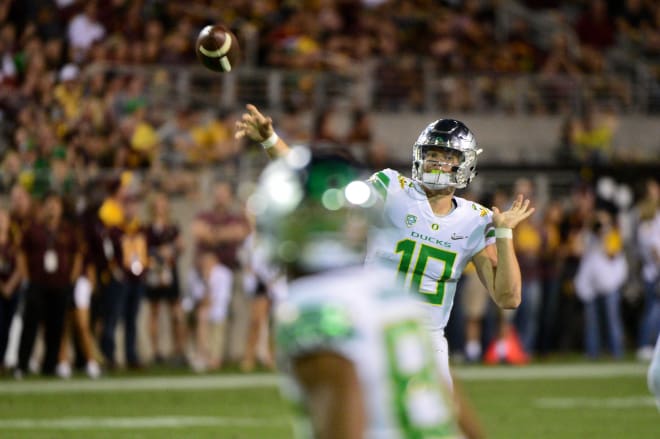 The consensus is gathering that the Ducks are building something special for 2019 and beyond. Even a Beaver website acknowledges it.
In Mario Cristobal's first year as head coach the team went 9-4 with a bowl win, plus wins over Washington and Oregon State. They missed an upset win over Stanford by the narrowest of margins, losing 38-31 in overtime after two freak plays derailed a dominating performance.
This spring they will return 10 starters on offense, seven on defense and both specialists. The raw numbers include two pivotal stars, quarterback Justin Herbert and inside linebacker Troy Dye, each four-year starters, both the acknowledged leaders of their units.
It also includes all five starters on the offensive line, four of which are seniors, Calvin Throckmorton, Jake Hanson, Shane Lemieux and Dallas Warmack. The fifth is 6-7, 375 sophomore Penei Sewell, a Freshman All-American at left tackle. Altogether the squad returns 153 starts on the offensive line, a key metric of college football success.
Top graded offensive tackles in the Pac-12 in 2018 (min 300 snaps):
(according to the website Pro Football Focus)
1. Penei Sewell 86.0 (UO) 2. Andre Dillard 85.0 (WSU) 3. Calvin Throckmorton 83.3 (UO)
Top graded guards in the Pac-12 in 2018 (min 300 snaps)
(according to PFF)
1. Shane Lemieux 82.7 (UO)
The most dramatic improvement in the offensive line came in the area of discipline. In fact, goducks.com reported, "Oregon's seven different players who started at least one game on the offensive line combined to commit just eight penalties during the entire 2018 season." [Emphasis added.]
All this experience is good, but the experienced players have to play like they've learned something. Although the Ducks have the personnel to have a dynamic offense, they face two principal challenges. The first is a demanding schedule that begins with a neutral site game against Auburn in Arlington, Texas. That's followed later in the year by road games against Stanford, Washington and USC. The Webfoots were tenderfoots on the road in 2018--they often didn't show up to play until halftime.
The second stumbling block is inconsistency in the offense. Despite being one of only eight schools to feature a 3000-yard passer, a 1000-yard rusher and a 1000-yard receiver, Oregon's offense faltered in key stretches last season, unable to move the football or score in the clutch. Some blamed playcalling by first-year offensive coordinator Marcus Arroyo. Others insisted it was nagging breakdowns and assignment errors, dropped passes, missed blocks, poor reads by the quarterback, errant throws, running backs running blindly into the hole instead of cutting to daylight.
As year two gets underway the staff will be evaluating the offense and its elements, reassessing the effectiveness of the Pistol Formation, the route combinations, as well as the lack of deception, misdirection and variety that sometimes plagued the attack. The Ducks couldn't run outside well. They struggled to move the pile on their bread and butter running game in several of their games, held under a hundred yards rushing in four of them.
It's easier to be deceptive and pose multiple threats to an opponent when you have a foundation of plays and personnel that an opponent has to respect. The foundation of Mario Cristobal's offensive philosophy is the four-yard run and the play-action pass. Neither works without reliable blocking and the ability of receivers to separate and finish plays.
There were whole quarters where the Quack Attack felt more like a retreat. They started one game with six three and outs and a fumble. It made for agonizing television, almost enough to evoke envy that Utah has rehired Andy Ludwig.
It certainly didn't help either to suffer a rash of injuries on the offensive line and at linebacker. Penei Sewell went down after the Washington game. Dallas Warmack was hampered by shoulder problems off and on all year. Senior linebacker Kaulana Apelu missed a big chunk of time.
This winter the Oregon coaches have upgraded the depth and talent pool by securing the #7 rated recruiting class in the country on the early signing day, a group that includes the #1 player in the country in outside rusher Kayvon Thibodeaux, the highest-rated linebacker in school history in Mase Funa, four talented receivers, #2 all-purpose back Sean Dollars, the country's #8 cornerback, Mykael Wright.
Fans will get their first look at new-look Ducks at the Spring Game on April 20th, which also happens to be (Mrs. Coach Cristobal) Jessica Cristobal's birthday.
The talent level in the new class is insane, at least ten players with the physical maturity to play immediately. It's the highest-ranked in school history, one that will ratchet up the intensity in practice and challenge for starting jobs.
Last year the grind of the season ravaged the depth chart, particularly on the offensive line and at linebacker. On both units the Ducks seemed one big body short, struggling for consistency in the running game, shredded and unable to contain the run on defense. Injuries created the necessity to shuffle, mix and match, take players out of their most effective position, cobble together a rotation.
Not anymore. The first unit looks good to go as Throckmorton rehabs a broken ankle suffered at the RedBox Bowl. Massive guard Malaesala Aumavae-Laulu (6-6, 389) gives the team a powerful sixth option, the vital element they lacked at midseason. Senior Brady Aiello also returns, a part-time starter last year and as a freshman. Versatile Alex Forsyth is able to plug in up and down the line. Sam Poutasi has played a significant chunk of snaps.
New signee Jonah Tauanu'u has the size and agility to play as a true freshman, while the stellar 2018 o-line class, Johnson, Randazzo, Jones, Sewell, Jaramillo, all hand-picked by Mario Cristobal, will have two full off seasons in the weight room.
It could be the deepest offensive line in the country, a perfect fit for Cristobal's vision of power, strength and the will to dominate a game.
This time around, Oregon should be able to run the football on anyone. It helps too that 1000-yard rusher C.J. Verdell and change of pace back Travis Dye have a year of experience. They will run with more confidence. They will cut and improvise with improved effectiveness, make more defenders miss.
Defensively, the Ducks lose a tremendous core of senior leadership and productivity in Justin Hollins, Ugochukwu Amadi, Jalen Jelks and Kaulana Apelu. However, they got a huge break when linebacker Troy Dye elected to bypass the NFL and return for his senior season. Dye has led the team in tackles all three years. Returning as a fourth-year senior he'll direct traffic and set the standard for a younger and more athletic defense.
Oregon fans eagerly await the third-year maturation of Jordon Scott, Thomas Graham, Deommodore Lenoir and Nick Pickett. Together with senior Lamar Winston and ball hawking safety Jevon Holland (the PAC-12 leader in interceptions last season with 5), they'll form the backbone of a defense that improved as the year went on and finished strong. They excelled in 2018 at keeping opponents out of the end zone, allowing touchdowns just 40.82% of the time in the Red Zone.
The unit will gain some needed momentum and pride out of holding Michigan State to two field goals in the 7-6 win at the bowl game, the first time in a long while that Oregon has won a game on the strength of the defense.
Thibodeaux, Funa, Wright and their 2019 brothers will do much to raise the talent level of the D. Miami transfer D.J. Johnson is eligible after completing a year of residency, a fearsome athletic package at 6-5, 255, big and quick. Redshirt freshmen linebackers M.J. Cunningham, Adrian Jackson and Andrew Johnson improve the depth, while Keith Simms, Sampson Niu and Isaac Slade-Matautia have reached maturity.
Two full years in and starting the third, newly committed defensive coordinator Jim Leavitt has more to work with than at any time in his Oregon tenure. As ESPN's Mark Schlabach noted in his capsule evaluation, "The Ducks allowed 25.4 points per game -- a 16-point improvement from 2016 -- while starting six sophomores on defense this past season."
Meanwhile, the Oregon coaches are still working the transfer portal and crisscrossing the country to add a few more pieces to a team that appears very much on the road to living up to some impressive national hype. They remain relentless in the pursuit of excellence.
Retaining Herbert, Dye, Throckmorton, Lemieux and Hanson is the most significant. So far the only major loss through attrition is wideout Dillon Mitchell. The Ducks have seven candidates to replace him after two solid years of recruiting at the position. Some combination of Jaylon Redd, Bryan Addison, Isaah Crocker, Mycah Pittman, Lance Wilhoite, Josh Delgado and Honey Waters should work it out.
The passing game could benefit from being less Mitchell-dependent, with the hope being that as a senior Herbert will take charge and use all his targets, comfortable enough to manipulate the defense from the pocket. He'll start seeing things better, refining his game in subtle ways.
It should help also to have an improved unit at tight end. Jake Breeland returns for his senior year. Throughout his career he's shown flashes of becoming a big-play tight end. Cam McCormick is back after a knee injury sidelined him for nearly all of 2018. The best blocker in the group, he may emerge as the starter. Redshirt freshman Spencer Webb oozes athletic ability and potential. An intriguing newcomer, Patrick Herbert, brother of Oregon's NFL prototype quarterback, rounds out the rotation.
The tight ends were iffy and inconsistent last season, so much so that it made fans nostalgic for the days of David Paulson and Ed Dickson. It'd be great to restore the luster this position once had at Oregon: for 20-plus years the Ducks churned out NFL tight ends who were devastating blockers and a rock on third down. Paulson had his own meme of reliability, even before memes were a thing: his name is David Paulson, the crowd would chant, greeting another first down or clutch play.
Clutch wasn't a word used often in association with the 2018 tight ends, though Breeland had two long gains in the RedBox Bowl, on an afternoon when long gains were scarce as decent pasta in a suburban strip mall.
Still, the overall level of continuity on the team is rare and important. At Alabama, the consensus #2 Tide have lost seven starters who declared early for the NFL. Nick Saban will have to replace Offensive Coordinator Mike Locksley and assistants Josh Gattis and Brent Key, after having to replace six assistants the season before.
At Washington, the Huskies return just two starters on defense:
Key losses: LB Ben Burr-Kirven, CB Byron Murphy, S Taylor Rapp, LB Tevis Bartlett, S JoJo McIntosh, DL Greg Gaines, DE Jaylen Johnson, QB Jake Browning, RB Myles Gaskin, OT Kaleb McGary
Inexplicably, many national publications still peg the Dawgs as the class of the PAC-12 and a playoff contender, expressing outsized confidence in head coach Chris Petersen despite his 1-4 record in bowl games at UW and a 2-3 record against the Ducks.
In Eugene, the ringing endorsement of Oregon's draft-eligible seniors builds an enthusiasm and momentum that will reverberate through winter workouts, spring practice and summer workouts. You don't get the team you want, you get the team you build.