Improvement key to James success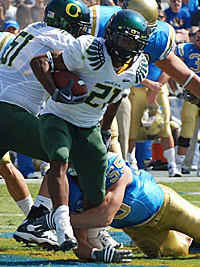 Being named Rivals.com 2009 Offensive Freshman of the Year is the end of the first chapter in the story of
LaMichael James
' career at the University of Oregon. Going into 2009, few knew the type of season the true freshman would have.
Running backs coach
Gary Campbell
has seen plenty of top talent in his 27 seasons with the Ducks. In James he recognized an untapped potential during his first few practices.
"I had no qualms with the way he ran the ball in the open field or the perimeter," Campbell recalled. "I knew he was going to be able to do all those things. But I challenged him that because of his size, it didn't mean he had to be an outside, slot guy running reverses and screens. That he had the ability if he would do it. I had seen him run well inside a couple of times but it was only when he was forced to do it and got out of his comfort zone. I told him you just have to sometimes put your pads down and run through tackles."
Of course advising somebody to do something and them doing it are two entirely different things. What separates blue-chip athletes from each other is their ability to improve.