Michael Clay: Young veteran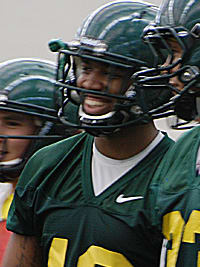 Special teams are as critical to winning football games as offense or defense. For football players they present a great opportunity to get onto the field and secure a seat on the plane.
Michael Clay
seized the opportunity as a true freshman and has not looked back since.
Duck Sports Authority caught up with the 5-foot-11, 220 pound junior linebacker after practice to get some of his thoughts on the first two years of his Oregon career.
Duck Sports Authority: Michael, you came in here your freshman year and won the starting job as long snapper. How did you think that would affect your future as a linebacker?
Michael Clay: It gave me a great opportunity coming out as a true freshman and being able to show myself on special teams, kickoff, punt, punt return and then kickoff return. I got to start learning the system coming in as a freshman so I viewed it as 100% positive long snapping as a freshman.
DSA: It is rare indeed for a true freshman to start in the Pac-10, even rarer at their 'second' position. Has that been a source of pride for you?
Michael Clay: I've always worked hard on different things however they come up. In high school I played long-snapper then I'd go in on defense. So I was used to being on special teams. I was on kickoff return and kickoff in high school too. So I knew some of the mechanics of special teams. At the college level, it was a great feeling knowing what I needed to do on some of the things coming in, and was able to contribute to the 2010 Rose Bowl team.
DSA: Your unit graduated two fine senior starters and here you are one of the most experienced guys coming back. Coach Pellum will be looking for leaders. How do you assess your leadership style?
Michael Clay: If you asked people what they thought of me they would say 'quiet'. I am more of a quiet leader who leads by example. I'm not a big talker or anything. I've got a mellow voice. I'm not up there jumping around. I show it more as a player than as a vocal leader.
DSA: OK here we are, Rose Bowl your freshman year, National Championship game your sophomore year. How does it get any better than that?
Michael Clay: To get the bowl ring. I'm oh for two right now. I'm on the downhill. I don't want just a 'gimme a ring'. I want a ring that says Bowl Champion.
DSA: I imagine you have a little bit of hardware from winning the Pac-10 the last two years.
Michael Clay: Winning the Pac-10 is great. It is such a prestigious league and we do have two of them, and I would be considered a teen since I'm 19. So I am a teen with two Pac-10 championships, but I want the next years to start with bowl champion.
DSA: A bowl win is not a matter of 'if' it's a matter of 'when'.
Michael Clay: It's just a matter of time. I've got two more years. Hopefully by then we will have four Pac championships and two bowl wins.
DSA: What does this team need to do to take that quarter step to win the national championship?
Michael Clay: We have to continue to work hard and you can always execute better. We did really well last year. But I guess we need to make more plays at crucial times and that would take us that next step.
Stay tuned to Duck Sports Authority as spring camp 2011 passes the halfway point and marches on towards the annual spring game.