Take Two: Can Oregon really land five-star Kayvon Thibodeaux?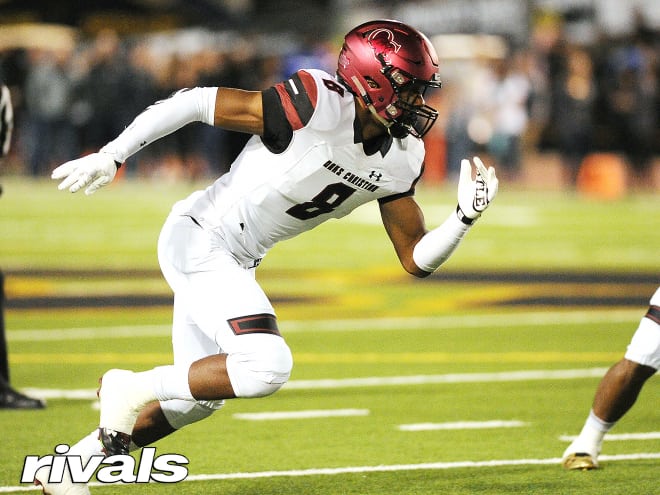 THE STORYLINE  
Five-star defensive end Kayvon Thibodeaux has been recruited for a number of years, and he's one of the highest-profile prospects in recent memory. But where he ends up going to college is still a major question only days before his commitment ceremony.
The Westlake Village (Calif.) Oaks Christian standout plans to make his decision next Saturday - Dec. 15 - with Oregon, Alabama, Florida, USC and Florida State being the most realistic options.
After an excellent in-home visit with Florida coach Dan Mullen on Monday night, Thibodeaux has decided to take an official visit to Gainesville this weekend. His only planned in-home visit remaining is with Alabama coach Nick Saban. The Seminoles are definitely not giving up, although there are some rumors they've slipped after a bad season. USC has been hot and cold throughout the process.
And then there is Oregon. The Ducks were considered a major stretch over the last few months in his recruitment, but after a fantastic visit to Eugene - and great talks with how the coaches could develop him there - the Pac-12 team is definitely a serious player now for the five-star defensive end.
Could coach Mario Cristobal and his staff convince Thibodeaux to stay in the West? Or is the Oaks Christian star headed to the SEC?
  FIRST TAKE: A.J. JACOBSON, DUCKSPORTSAUTHORITY.COM  
"The best shot Oregon has at signing a five-star player in the class of 2019 is with Kayvon Thibodeaux. That is not to say anybody in Eugene thinks he is a lock. I would not characterize Oregon as confident that he will commit to them, but cautiously optimistic is a fair assessment.
"This optimism is based upon his official visit, which reinforced what he had experienced earlier on his unofficial visit in the spring. Everybody who was around Thibodeaux during his visit confirmed that he was very impressed with the game experience at Autzen. He has played his recruitment very close to his vest, but the few times he has talked about Oregon, he has had nothing but good things to say."

SECOND TAKE: MIKE FARRELL, RIVALS.COM
"It would be huge for Oregon. The Ducks have a nice recruiting class going and Mario Cristobal has to win some big recruiting battles in California. That's what Chip Kelly did when he built the program. Thibodeaux is a special player. He can be their next great defensive lineman there if he develops properly.
"Every school in the SEC wanted him, schools all over the country. USC wanted him, too, so for Oregon to pull him out of California, would be huge."