The closer: Ray Woodie is not settling for a set of steak knives
When 4-star linebacker Eli'jah Winston announced his commitment via Twitter this evening, it marked the 9th commitment of Oregon's 25-man class for which outside linebackers and special teams coach Raymond Woodie was the lead recruiter.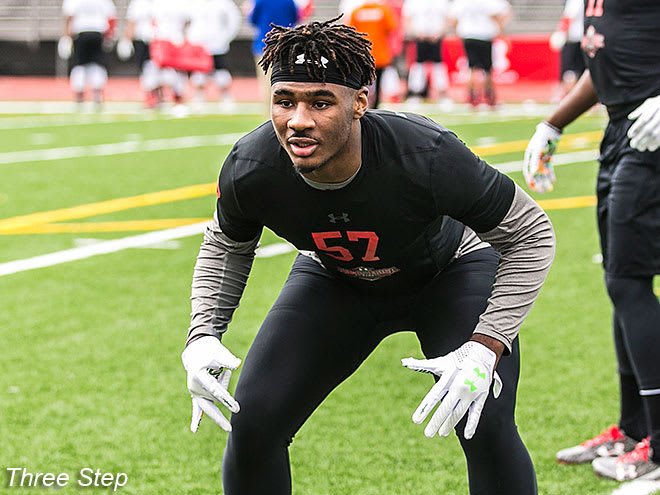 The list:
Winston, Malcolm Lamar, Andrew Johnson, MJ Cunningham, Warren Thompson, Jonathan King, Mohammed Diallo, Adrian Jackson and Isaiah Bolden.
Willie Taggart's assistant at both the University of South Florida and Western Kentucky has been both busy and effective on the recruiting trail. He's scooped up Lamar, Thompson and Bolden right under the noses of the Florida schools. He's personally restocked the Oregon linebacker corps with the commitments from Winston, Cunningham, Jackson and Johnson.
When Rivals and the website Campus Insiders choose a National Recruiter of the Year, Woodie ought to get some attention for the award. Especially if he caps this impressive haul by nabbing elite cover cornerback Kalon Gervin from Cass Tech in Detroit, Michigan.
Woodie's been working on Gervin for over a year. The 5-11, 180 DB visited the Ducks for the Civil War; he's down to a final two of UO and close-to-home Michigan State. Gervin gave his visit three fire emojis and has said he'll announce on December 2nd.
Woodie has strong connections in Florida after 13 seasons as a high school head coach at Palmetto and Bay Shore, but what really drives his success as a recruiter are the energy he brings to it and his straightforward, honest approach with prospects. 2019 linebacker Ricardo Watson III, a teammate of Lamar and Thompson at Armwood High in Florida, explained, "He's a good guy. I like him as a coach because he tells the truth and tells me what I have to do ."
Woodie doesn't pump sunshine. He's frank about the depth chart, interest in other jobs, telling recruits directly what they have to do to reach the next level and make a starting lineup in Division One football. He's built a wide network of high school coaches and works to maintain those relationships.
The relentless work has paid off big for the Ducks, who currently have a 2018 class ranked an unprecedented 6th in the nation. This week Woodie and the rest of the staff are crisscrossing the country, attempting to close on 4-5 difference makers to round out that group while checking in with the fastest and most talented class in school history.
Update/correction: regarding Adrian Jackson, the 4-star Colorado linebacker, defensive coordinator Jim Leavitt was the primary recruiter and Woodie was the secondary.