The season in review: Game 2, Oregon 62, Portland State 14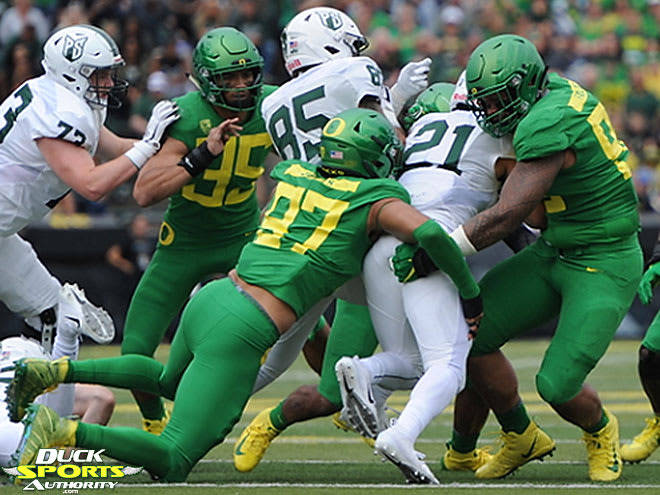 The second in a series, reviewing all 12 of the Ducks regular season games, looking for the trends and developments that shaped their progress as they put together an 8-4 season in year one of the Mario Cristobal tenure as head coach (5-4 in the PAC-12).
What happened: A.J. Jacobson summed it up best: "There are many mammals that could have coached the Ducks to a win against Portland State." Oregon cruised to a 35-7 lead over the FCS Vikings and dominated in all phases of the game on their way to the 62-14 final.
It was the sort of feel-good win college football fans often see on the schedules of teams from the SEC and elsewhere. Big Sky also-ran PSU lost 72-19 the week before to Nevada Reno. The Vikings, 1-11 in 2017, would go on to a 4-7 season. Eastern Washington clubbed them 74-23 in the season finale.
Coach speak: In his post-game interview Mario Cristobal said, "I feel like we know who we are, we just haven't been tested. I fully respect both teams we just played. It does not matter that we have a personnel advantage, and we acknowledge that, but our tests have to become every day in practice."
Stat padding: There were no signs of what many later identified as play-calling issues in this one--everything the Ducks did worked against the Vikings. With a clean pocket nearly all afternoon (freshman left tackle Penei Sewell gave up Oregon's one sack) Justin Herbert cruised, throwing four touchdowns in the first half without an interception. For the game he was 20-26 passing for 250 yards. Three of the misses were early drops, a nagging pattern that beset the Duckies all season, while the other three were head-scratching poor throws by Herbert himself, a glitch in his programming that became more bothersome as the season went on and he absorbed more pounding.
The offense did achieve terrific balance, 266 yards passing, 296 on the ground. The offensive line had their way with PSU's front. Running backs Tony Brooks-James and C.J. Verdell both went over 100 yards. Travis Dye broke free for a 49-yard touchdown run in third quarter.
They'll hype you until they forget you: in those first two cupcake games Justin Herbert looked the role of a Heisman finalist and first-round NFL pick, at least when his receivers weren't muffing the ball. He started his junior season with 9 touchdowns passing (to 6 different receivers) and another rushing, numbers that kept him on all the short lists, including some throws that were truly ooh and aah-worthy:
Stealth ninja: Dillon Mitchell would go on to have a record-challenging season for the Oregon offense, but the Ducks cagily kept him under wraps in those September cupcake fests. The junior from Memphis, Tennessee caught just two passes for 55 yards in this one, 3 for 26 against Bowling Green, 1 for 17 in week 3 against San Jose State, scoring only one touchdown, a nifty 11-yard stop-and-start against BG.
Herbert was coy after the game. He told reporters, "I don't think we need that one go-to guy.I think we've got so many weapons that just getting them the ball in general is a bonus. My job is just to get them the ball and let them do the work."
Eleven different Ducks caught passes against PSU, including four by Brenden Schooler. Later in the year, however, the team would become so Mitchell-dependent that it crippled them against better competition. No one else could seem to catch the ball consistently or get open, and at times Herbert became hopelessly locked on to his number one target.
Minister of Defense: Justin Hollins had his second big game sparking the Oregon defensive effort with numerous pressures, a sack and two tackles for loss. Jalen Jelks, Gus Cumberlander, and Drayton Carlberg added sacks.
The Ducks only allowed 10 first downs in the game and adjusted well to a surprise switch out by PSU head coach Bruce Barnum, who benched their normal starting quarterback and replaced him with the more mobile Jelani Eason. Eason kept the ball 13 times but the front 7 contained him well, limiting him to 19 net yards.
Less good, however, was the unit's eye discipline on trick plays. They let the visitors get a couple of big chunks on a double pass and a flea flicker. They let Viking tight end Charlie Taumoepeau get behind them for five catches, 125 yards and both TDs. It continued a maddening pattern of losing track of the opponent's best receiver, something that would cost them badly against Stanford, Arizona and WSU.
Encouraging developments: With Lamar Winston out with an injury freshman linebacker Adrian Jackson got a start and played 35 snaps. Isaac Slade-Matautia got a big chunk of time at inside linebacker and recorded three tackles. True freshman Travis Dye scored his first touchdown as a Duck with the 49-yard burst, while Verdell had his first 100-yard game and first score. Freshman tackle Steven Jones saw his first action; the 6-7, 375-pounder looks to be one of cornerstones of the run-first power football offensive line of the future.
By the numbers: the Ducks again played a very clean game with just 5 penalties for 55 yards, 1 sack allowed and 0 turnovers, all signs of the improved disciplined Cristobal had sought to instill since winter workouts. They scored seven touchdowns on their first nine possessions. They were 7-11 on 3rd down conversions and 1-1 on 4th down.
The defense had 9 tackles for loss for -38 yards, 4 sacks for -27. However, their dominance in this game only disguised glaring holes that would show up as injuries eroded their depth.
Quarterback development: perhaps a lost opportunity here. Despite the lopsided score Justin Herbert played deep into the third quarter. Braxton Burmeister came in next and completed all three of his passes, for 16 yards. Tyler Shough got into the game late in the fourth quarter, but all he did was hand off 8 times: in his three appearances this year he has not attempted a pass.