Three-Point Play: Devin Askew, Gethro Muscadin, mid-majors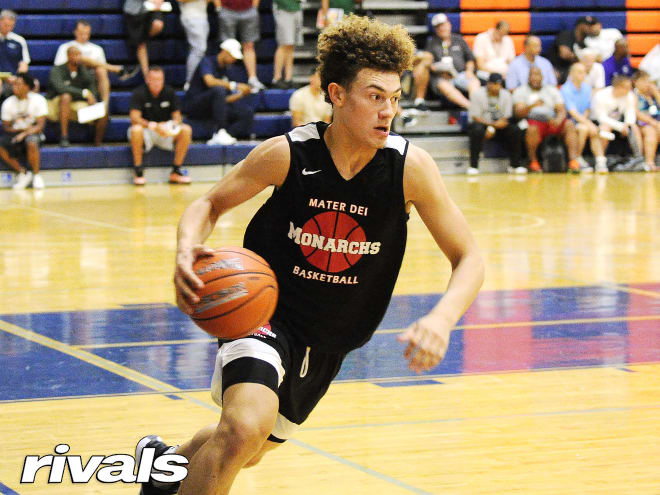 1. Askew setting visits, may affect 2020 class
Could a member of the 2021 class hold the keys to the 2020 class? Devin Askew is the top point guard prospect in 2021, but the option of reclassifying remains on the table. Which is why this week, Arizona's Sean Miller and assistant coaches from Gonzaga, Oregon and Villanova have been in to see Askew. Today, Kentucky's John Calipari is expected to meet with Askew before Memphis' Penny Hardaway completes an in-home visit with him and his family next Monday.
Speaking of Memphis, Askew has scheduled an unofficial visit to the AAC program for its Memphis Madness event on Oct. 3. The following day, Askew will take an official visit to Villanova, which follows his official visit that he took to Louisville two weeks ago.
He has often spoken about leaving the west coast for college and is proving with his visit schedule that he is a man of his word. A visit to Kentucky for later this year remains in the works and a few others could be solidified before the end of September.
For all of the programs recruiting him, each remain in need of a lead guard in the 2020 class. Just two five-star point guards remain uncommitted -- Cade Cunningham and Sharife Cooper -- both of whom are further along in their recruitments. Askew could decide to remain in his current 2021 class or he could be the heavily coveted chip that turns a league contender into a national title contender.
A commitment is not expected until the spring, at the earliest, but there is no question Askew has become one of the top priorities for the best nationwide.
2. Fast-rising Muscadin sets visit tour before fall signing
Interior posts remain at a dearth in the 2020 class. If you are 6-foot-10 or smaller, chances are, you'd rather play on the perimeter compared to completing the dirtier work in the paint which makes Gethro Muscadin that much more of an intriguing high-major target this fall.
There are not many that have improved at such a rapid rate in recent months than Muscadin. The Haitian center was far from a high-major prospect a year ago; now, he is a four-star target that has drove some of the more prominent programs into his recruitment.
After completing his summer with the YGC36 program where he helped win the adidas Gauntlet Finale, his offer sheet has expanded. However, Muscadin has not been a giant fan of the recruiting process and because of it, a commitment does not seem far off.
Last weekend, Muscadin took an official visit to Kansas State and on Friday, he will head to Minnesota. Kansas will take up his third official visit on the weekend of Sept. 20, before completing his official visit tour to Texas Tech on the weekend of Oct. 4. He could potentially take one more trip, which could be hosted by Memphis, though the Tigers have yet to offer.
Kansas State and Texas Tech sit in the best spot. A signing should be in the cards in November with Muscadin providing a high-major program with a hard playing, rapidly improving and high-upside center that should leave an impact right away.
3. Mid-major love
Last week, I threw some love towards the high-major ranks regarding recent commitments celebrated and this week, I thought it was time to give the lower levels some ink which is why Appalachian State, Colorado State, FAU Loyola Chicago have worked their way into this column.
Appalachian State: Dustin Kerns is building and he received another block earlier this week in CJ Huntley. Holding over 25 scholarship offers, the 6-foot-9 power forward boasts a 7-foot-2 wingspan, the mobility of someone five inches shorter than him, and the versatility to play a variety of positions in the frontcourt. He is a recruiting win for Appalachian State who is the beginning to their 2020 class.
Colorado State: The Rams went out of its locale and secured the commitment from Isaiah Rivera earlier this week. The 6-foot-5 wing competed on the Nike EYBL circuit this summer and averaged over 11 points per game and while his percentages weren't all there, he should develop into a quality perimeter threat which would give Niko Medved another reliable backcourt weapon.
FAU: Second-year head coach Dusty May has worked wonders in Boca Raton and should ascend the C-USA's pecking order this season. He has created a strong roster from top to bottom that got that much better earlier this week thanks to the commitment of Giancarlo Rosado. The big man led his E1T1 team in scoring this summer on the Nike circuit and should be an immediate spark down low that could lead the Owls to their first NCAA Tournament since 2002.
Loyola Chicago: Arguably one of the top mid-major pick-ups in recent months, Baylor Hebb has the chance to be an absolute stud for the MVC bunch. Hebb was recruited up to the high-major level but found the perfect landing spot in Chicago. He is a confident shot-maker that can distribute and should be someone that, if he does add the proper strength, is a top name within the league during his college stay.